Dialogue Online Education:

Disability-Inclusion, the basics
Take the next step in your professional journey today. Invest in the Dialogue Online Education program and become a leader in fostering inclusivity and understanding in your workplace. It's not just about acquiring knowledge—it's about shaping a more compassionate future for everyone. Don't wait, start your transformative journey with Dialogue Online Education now!
Empty space, drag to resize
Dialogue Online Education is a product of Dialogue Social Enterprise and was developed in collaboration with experts from various fields.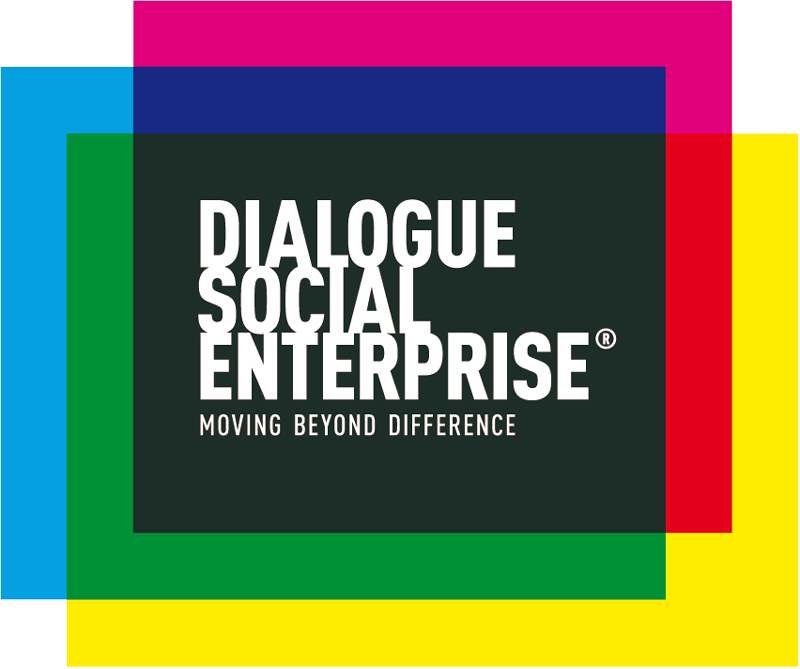 Overview
Experience a dynamic journey of learning with the Dialogue Online Education platform, a unique 90-minute digital curriculum specifically tailored for business professionals, centered on disability inclusion in the workplace. This immersive platform provides engaging micro-sessions, each focusing on key topics through an array of methodologies such as reflective questioning, compelling storytelling, interactive games, quizzes and more.
To ensure the highest quality learning experience, the course is meticulously structured into seven modules, each approximately 20 minutes in duration. These modules are designed to be completed over a manageable period of three weeks. The Dialogue Online Education platform: Where business acumen meets compassionate inclusion.
Unique, authentic and created by professionals
As with all our Dialogue offerings, the platform uniquely features interactions with real individuals living with disabilities. These encounters are designed to evoke a profound emotional response and equip you with valuable insights and resources to foster a more inclusive environment within your organization.
Breandan Ward is an experienced lecturer, advisor, and leadership coach, specializing in disability, diversity, and inclusive leadership. With a background in investment banking, he has overcome progressive sight loss due to an inherited eye disease and now works globally with for-profit and non-profit organizations. As an Adjunct Professor at New York University, Breandan brings his passion for running, music, travel, and languages to his multifaceted approach in empowering leaders and driving positive change.
Breandan Ward
Meet our esteemed colleague from Mexico who has been blind since the age of six. Starting his journey with Dialogue in the Dark in 2006 as a guide, he has now progressed to be a Master Trainer for Dialogue Social Enterprise (DSE) since 2010. He oversees training new teams of visually disabled guides and facilitators across 20 countries. Besides this, he is responsible for developing impactful workshop programs and other essential functions at DSE. Holding a Master's degree in Organizational Psychology, he is also an ICF-certified Executive Coach and a certified mindfulness and socio-emotional skills trainer.
Jose Macias 'Pepe'
Online Education
Please contact us for the purchase of more than 10 licenses or for a custom offer. We will be happy to assist you.
\Learnworlds\Codeneurons\Pages\ZoneRenderers\CourseCards
We want everyone to have access to our educational programs. That's why students and single users pay only the reduced price of 49€. Just use the code: SingleUser at checkout.
Benefits of our training programs
Grow
Grow your self-awareness (an essential soft skill) and get engaged with disability-inclusion at work. Understand how relevant the topic is, for you.
Learn
Learn to identify and break down the most important obstacles to more inclusive workplaces for people with disabilities.
Form
Form new habits and start embedding inclusion in your team's culture, today.
Feel free to contact us for any questions or for the purchase of licenses. We are happy to help you.
The World of Dialogue
Discover the transformative power of empathy with Dialogue Social Enterprise. Through immersive exhibitions like the Dialogue in the Dark and Dialogue in Silence, we guide you in breaking down barriers and fostering openness towards diverse ways of living, guided by blind and deaf hosts respectively. Step out of your comfort zone, expand your horizons, and experience a lasting shift in perspective on ability and disability.

Currently more than 20 locations hosting Dialogue exhibitions and workshops are ready to welcome you!.
Join the Dialogue Newsletter
Each month we send a small summary of our activities around the world. Here we create a connection between our different locations and provide stages for important topics.